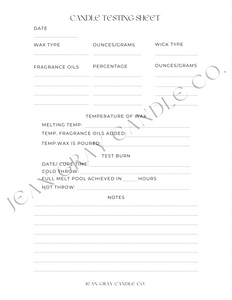 Achieve success in your candle making endeavors with the printable Jean Gray Candle Co. candle testing sheet. This helpful tool allows you to properly test your candles and optimise your recipes for the best results. Get started on the right track for your candle-making hobby or business today.

This printable candle testing sheet allows you to document the following specifics: 
-Wax Type
-Wick Type
-Fragrance Oil Types
-Wax Temperatures 
-Notes on your testing 
And more!

*THIS IS A DIGITAL DOWNLOAD ONLY*
No physical product will be shipped.


*Once purchased, you will automatically be able to download the pdf file.