Testimonials
Rich Auntie Energy: This candle is my new go-to!

Rachel G.
Oliver: The Oliver candle smells amazing!! I highly recommend! :)

Jermaine
Spa Day: This scent is soooo relaxing.

Tahlia R.
Joyce: I love, love the Joyce candle...The scents you have created are totally soothing and wonderful to smell.

Sharon
Oliver: Nice smoky with just enough earthiness great burn love the wooden wick. Reminds of a foggy day curled up with a good book

Patti M.
Dominique: I was truly surprised when I lit this candle. I love the subtle floral scent. It has great throw - hot & cold. Will definitely order again.

Cynthia K.
Rich Auntie Energy: Tropical paradise with a twist. I love this candle. It definitely smells like a rich auntie lol. The scent fills my living room. Great candle! I am pleased with my purchase.🕯️

Stacie M.
Oliver: Always & forever in love.

Donald C.
Denise: I love this scent combination. I have found that burning two candles heightens the experience. I burned this candle with a lavender scented candle and the fragrance added the perfect addition to my bedtime wind down. I will definitely purchase this candle again.

Kimberley B.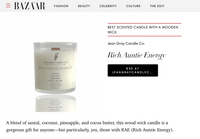 RICH AUNTIE ENERGY in HARPER'S BAZAAR Again!
Our RICH AUNTIE ENERGY candle was given the title of "Best Scented Candle With A Wooden Wick" in Harper's Bazaar's list of "The 37 Best Scented Candle Gifts to Give This Year"
Shop Rich Auntie Energy
Take JG Scents with you anywhere!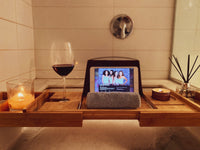 Jean Gray Candles: Affordable luxury scents for the hardworking BOSS woman!